Dear Al, Alice and crew,
Recently we were passengers on one of your sunrise champagne balloon flights.  We expected it to be a visual treat - sort of an aerial view, like being in a low-flying airplane - a treat for the eyes and nothing more.
Surprised and pleased, indeed, we were.  We didn't realize all of our senses would be involved... we flew incredibly low, low enough to see rabbits (OK, the deer were hiding), low enough to grab at trees, low enough to "dip and drip" in a golf course pond.  The handfuls of pine needles we gathered - the virgin tips of tall pines - were sticky with resin and smelled incredibly, intoxicatingly pungent.  And every-where there was the silence of a forest primeval.  It's as though we were thrown back in time, quietly gliding through a time and a country untouched by civilization.  The hot air jets, when released, sounded like some prehistoric animal bellowing, our neighboring balloonists returning it's mating call.
Our incredible experience didn't end when we reached terra firma again.  We headed for a picnic site, where you supplied champagne, cheese, bread, sausage, and a fascinating, unhurried glimpse into the history of hot air ballooning.
Its obvious you enjoy what you're doing, and , more importantly to passengers like us, you enjoy sharing this multi-sensory experience.  Thanks very much for a wonderful and memorable maiden voyage!
Sincerely
John Merrill & Donna Manley
Dear Al and Alice,
Thank you so much for the totally terrific balloon ride.  We very much appreciate you letting us bring the kids along.  I think they enjoyed it almost as much as we did!
Thank you so much
The Mchrings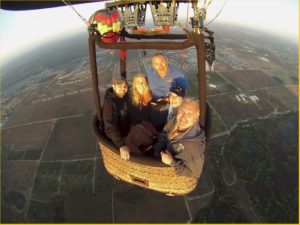 Dear Mr. Muir:
This is just a note of appreciation for the wonderful ride we had in your hot air balloon on June 19th.  The ride was a wonderful experience and a memorable occasion for all of us.
Thank you for an experience of a lifetime.
Sincerely
Dale Thompson
Captain Al and Alice-
Our Saturday evening flight was awesome! We just wanted to say "Thanks" again for the entertainment, balloon history and your pleasant concern to help make our dream flight come to life
Sue and Walter Hamagriff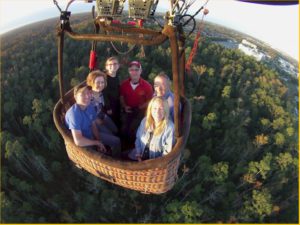 Dearest Al & Alice,
I would like to take a few minutes of your time while you aren't out filling the sky's with wonderful balloons to say thank you for my wonderful day.  I cannot think of a better way to end the day then to spend it doing something so great as seeing the earth from such a marvelous way.  Spending that time with beautiful, friendly, warm and gracious people like yourselves wasn't a bad deal either!  Since I was a young child I have dreamed of riding in the colorful balloons.  I am a loss to find the words to describe how it feels to have accomplished and lived a goal of a very long time.  Thank you for sharing your friendships and time just to make my day that much more memorable.  I won't forget my day nor will I forget the gift you both have given me... a new look at the earth through silent. peaceful magic.
I will see you again....
Peggy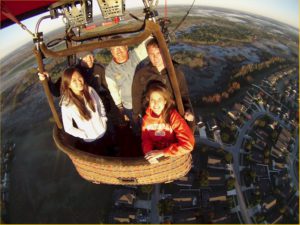 Other words to describe this experience breathtaking. Celebrated our 23rd anniversary would do it again. My husband has a fear of heights and he had no problems. Very professional and friendly and knows what they are doing. Pilot was very entertaining as well Would recommend and have to anyone including if you have children.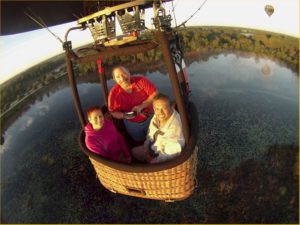 Dear Al,
You were right, we had a great time and a fine adventure. Thanks so much for taking us up yourself. We have told several of our friends about it and I suspect a couple of them may give you a call.
Ray Eckerfield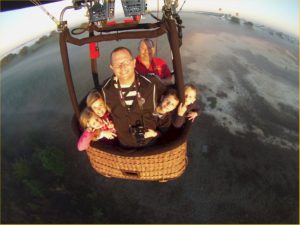 Dear Al and Alice
This comes with sincere appreciation. Thank you for a most wonderful ride. It was so interesting and exciting! The refreshments and the history at the competition were delightful. you are very special people, and it will always be a treasured memory.
Sincerely R.G. & Carmine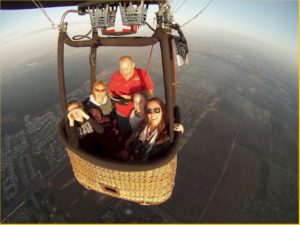 Simply one of the best things we have ever done.  You can not describe it to someone who has not done it.  Just beyond words.
Pretty Balloons Unlimited Inc., DBA Bear Creek Balloons is the oldest and most experienced Hot Air Balloon Ride business in the South Texas Area.  We have been providing flights to the public for 30 years.  Captain Al is the most experienced pilot in the Houston area with over 4000 flight hours in balloons.  Our flights are conducted 7 days a week, year round, weather permitting.  Flights take place mornings at sunrise during the summer, from sometime in early May until it cools off in the fall,  When it cools off (Average temperature below 80 degrees) we start to try and fly twice a day, mornings and afternoons a couple of hours before sunset.
Use the form on the right to tell us your story.
Tell us about your special adventure with Bear Creek Balloons.